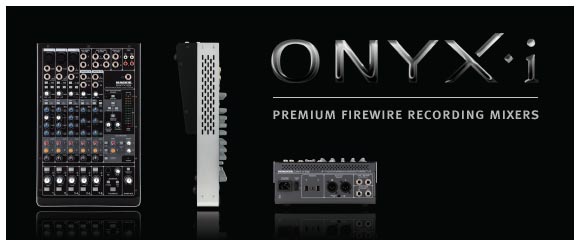 "There are real benefits when using an analog mixer as a front end to your favorite DAW," said James Woodburn, Mackie product manager. "Those who have been intimidated by digital recording will love the familiar layout and feel of a mixer. Those who are already into it will enjoy increased flexibility and speed." Woodburn concludes, "Onyx-i mixers are the ideal combination of interface and mixer for anybody who needs the best of both worlds…simply put, it's a better way to record."
The new Onyx-i Series mixers feature extremely deep FireWire integration and a host of proven, high-quality analog features like Onyx mic preamps and Perkins EQ. Users can choose to implement the Perkins EQ into the recording path at the push of a button, and can also choose to record auxes, groups (1640i) and the master L/R signal. The flagship Onyx 1640i incorporates a massively flexible 16×16 FireWire interface, allowing the user to return up to 16 DAW channels right back into the channel strips for a true tape-style mixdown.
"Since we built the FireWire interface right into the heart of each mixer, Onyx-i offers a significant increase in performance and value over the older Onyx Compact Series where the FireWire was an additional cost option," remarked Woodburn. The Mackie Onyx-i Series (820i, 1220i, 1620i and 1640i) will be available globally in September 2009. The 820i will have a U.S. MSRP of $469.99, the 1220i will have a U.S. MSRP of $899.99, the 1620i will have a U.S. MSRP of $1299.99 and the Onyx 1640i will have a U.S. MSRP of $2199.99 (all models include built-in FireWire interface).
*The Onyx-i Series Mixers are qualified by Mackie for use with Pro Tools® M-Powered™ 8. Mackie will release a driver (via www.mackie.com) together with full details of how to use the Onyx-i Series with Pro Tools® M-Powered™ 8 in the coming weeks.