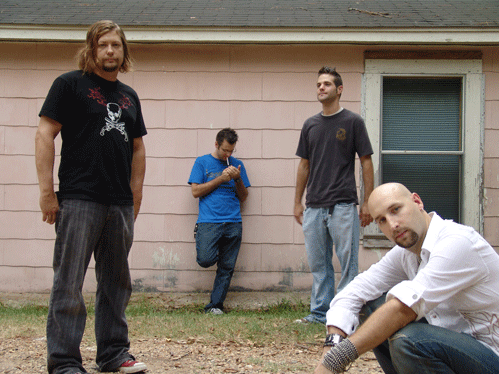 BR: Tell us a little about your band.
Dane: We started in the icy tundra of the Upper Peninsula of Michigan, but
relocated to Louisiana.  A move that confuses many, but if you have ever
been to the U.P., it probably wouldn't be so hard to understand (it's a
beautiful place.but not a place to try to be a career original musician).
Our music is essentially just rock.  Upon a deeper attempt to describe it.we
call it post-emo or alterna-pop-punk.  We have had comparisons ranging from
The Replacements, Dramarama, and The Pixies, to Green Day and Blink 182 and
Social Distortion.  Our latest record, Tinsel Life, was produced by the
legendary Ed Stasium (Ramones, Soul Asylum).  We tour relentlessly, doing
about 150 shows a year and we've supported such acts as Staind, The Goo Goo
Dolls, Alter Bridge and The Toadies.  We have managed to land a few
sponsorships, such as Jagermeister, Sam Ash, AKG Microphones, and Atlas
Microphone Stands.
BR: How long have you been together?
Dane: squint has been in existence for almost a decade now.  The band was started
by myself (Dane Adrian) and my childhood best friend (Matt Fredrickson)
while still in high school.  We performed under a couple of different names
before settling on squint.  We've had several changes in the rhythm section
over the years.the current line-up has been in existence for just over 2
years now.
BR: How many shows are you doing a year?
Dane: We pretty much tour year-round.  That translates to about 150 dates a year.
We have played from New York City to Los Angeles and from Corpus Christi to
the Upper Peninsula of Michigan.
BR: How do think touring affects your ability to connect with new fans as
compared to other methods of promotion or are they connected? Online etc…
 
Dane: Over the last couple years we've found that the most dedicated music lovers;
the one's who come to shows and support the band above and beyond just
listening; are the very same people who are well connected to us online.
The first thing they ask for is our MySpace or website.  They join the
street team and mailing lists and actively spread banners and songs across
the web.   As far as touring goes, we generate the most fans from live
performance.  The web is littered with bands who exist only in a garage or
living room – actually meeting and talking to the band is what creates the
biggest fans.
BR: How do you promote those shows?
We promote shows through every possible avenue.  Banners on the web, MySpace
invites, email lists, street team, and good 'ol fashion fliers on poles!
BR: What song placements have you had?
Dane: We've had a lot of luck with placements.  Songs off our last record have
been on MTV, A&E, Discovery Channel, Oxygen Network and the Travel Channel.
In addition we've had a lot of indie films that have used our music and been
shown at festivals.  This is a great avenue for indie artists to make some
money to help support their ultimate goals.
BR:Â  What contests or awards have you won?
Dane: In all honesty, we pretty much avoid contests.  We land the occasional award
though.  Mostly through ASCAP.  We've been given awards from Jim Beam and
Sennheiser in the past as well.  A website in Germany even gave us Album of
the Year for Tinsel Life one time.  Haha.  That was pretty cool.  And, our
fans once purchased a star (which we were not aware could be done) and have
had it named squint in our honor, so that felt like an award, too.
BR: How many cds have you released?
Dane: We have released two albums with a 3rd and 4th on the way in '07. Â 
Our first release, Beeker, was just re-released in a polished new form, as
we had it re-mixed by Ed Stasium (Ramones, Soul Asylum).  Stasium also
produced our latest record, Tinsel Life.  We have a live record in the works
with a possible release date of March and we are looking to hit the studio
in mid-2007 for our 3rd studio release.
BR:Â  Describe the involvement of each member in the band. Does everyone market
or promote? Does each person take responsibility for certain tasks?
Dane: We try to spread the work out evenly in the band – it works sometime, other
times it doesn't.  Even when you spread things out, you need to have a focal
point, someone who knows everything.  This makes it hard to really dole out
the big tasks like booking and promotion.  Over the years as we have become
more and more busy with the daily dilemmas of being in a band, we have
turned more and more to our street team and fans for help.  We have had to
turn over our website and MySpace to others.  We just don't always have time
to update the sites with new pictures and music.  We let them know what to
put up on the sites, but we don't do the actual postings.  That being said,
we still keep in direct contact with our fans.  We answer all our MySpace
messages personally at this point, and we give out our IM names to people
who join the street team. Â 
BR: You've had quite a bit of success promoting yourself, what do you believe
is the main factor behind that success?
Dane: That is easy:  Drive.  We believe in our music.  That makes it easy to sell
others on it.  There is no set path to success in the music business.  We
just get up everyday and head out into the woods.  We get smacked in the
face with a lot of tree branches along the way, but we also find our way out
the other side a lot too.  Polite persistence is key in this business, and
probably any business for that matter.
BR: How much of a role do social networking sites play in your promotion?
MySpace, Tagworld, Friendster etc…
Dane: MySpace currently rules our promotion plans at the moment.   We have a
Tagworld and love it, but there just isn't the traffic on Tagworld that
there is on MySpace.  We have seen direct benefit from MySpace promotions
and increased turnout at shows.  We got started late on the MySpace kick,
looking back, I wish we would have pushed it harder.  We are fortunate to
have both www.squint.com and www.myspace.com/squint.
BR: Do you have a street team? If so, what kind of incentives do you provide
to them? How big is the team?
Dane: We do have a street team.  It is a fairly important part of our promotional
efforts.  Some members play a bigger role than others.  We sort of let them
decide how involved they want to be.  We have a street team of somewhere
around 150 folks all over the country.
We utilize them the most during radio campaigns.  They play a HUGE roll in
keeping us in rotation.  The main advantage of being on our street team is
that we chat with everyone over instant messenger.  When you join the squint
street team we give you our personal IM name so that you can chat with
different band members.  We also try to give our street team the first bits
of news before the rest of the mailing list/website.  Occasionally we also
offer special deals in the squint store for members.
BR: How much and how have you obtained airplay online and off?
Dane: We have had a lot of success at college radio with airplay on over 250
stations, charting on the Top 20 Adds chart and in the CMJ Top 200.  This
was accomplished using a college radio promoter.  We used Tinderbox and
liked them.  Talk to Jon DeLange and tell them we sent you!  They are great
people.  We also had a lot of success at commercial specialty radio,
charting on multiple charts and getting a lot of airplay.  We used Notorious
Promotions for that.  Liz does great work!  Tell her squint mentioned her –
she is one of our favorite people!
BR: Anything else that you would like to add?
Dane: Being in a band is a job.  A great job, but it is still a job.  People ask
us all the time how we do all that we do.  Be that landing a great producer,
sponsorships, big shows, or whatever.  The answer is simple, hard work.  If
you really want to make it in the business, you should treat it like any
other business.  If you have a job in the real world, you get up and work 8
hours a day for 5 days a week right?  If you do that for your band, put in
40 hours a week doing something to progress your bands career, you will be
amazed at the end of the week where you have landed if you look back over
the work week.  This can be phone calls, website work, writing songs,
whatever, just put in 40 hours.  Hell, a lot of people put in 50 to 70 hours
a week at their jobs.  Remember you also have 4 or 5 members in your band.so
put them to work too.  That means you can put in 200+ hours a week pushing
your band forward.  That is a lot of man-hours moving your rock campaign
towards its goal.  If you have a street team, even better, delegate some of
the busy work to them, they want to help!  That frees you up for other band
related things.  Most importantly, though, is the music.  Keep writing
music.  Don't let the business overwhelm you and get away from the music.
Without the music, you don't even have any business.  And, you know, stop
and look around and enjoy your fans and what you are doing.  Why are you
working so hard if you don't love your music, your fans, and the lifestyle?
You can work hard putting roofs on houses if all you want to do is work
hard.  Work hard at what you love, so that you don't have to work hard at
what you don't.
You can check out squint and their music at: